Children are an important part of the ministry of United Presbyterian Church. Children are nurtured and loved by the whole congregation, so they can feel a part of the family of God. We strongly believe in provided quality educational opportunities from our Toddler and Preschool programs with UPC Discovery to our Rotation Enrichment Classes on Sunday Morning and Vacation Bible School so children may grow in the knowledge of themselves, the world, and God.
Fellowship is a very important part of our church. Our smallest members know they belong because of the friendships and relationships that they create. To celebrate the importance of being connected, we have special events for children like our Easter Egg Hunt and Halloween Carnival, as well as a Parents' Night Out evening for children to gather at the church. We also host picnics on the playground, Wednesday evening events for children, and many other fellowship opportunities.
Children in Worship
You and your children are always welcome at UPC. We understand that children can sometimes be wiggly and noisy. It's okay; we're glad you, and they, are here. Many young families sit in the balcony where there is more room to move about or get up and walk your child while remaining in the sanctuary, but you may also want to sit up close so your children can see everything and be encouraged to participate. Children are welcome to serve as greeters, ushers, and leaders in worship.
Children's Worship Activity Kits with quiet biblical activities are available from ushers. Children may sit with their parents until the Time For Young Disciples, after which children 3 and up can go upstairs for Sunday School or return to their parents. You may pick your children up in the Sunday School rooms upstairs after worship. Go to the main stairwell across from offices and turn left after the double glass doors, then take two rights.
On the fifth Sunday of the month and other special Sundays, children remain in the sanctuary so we can worship together as one church family. Many of the children and youth participate in leading the service. We encourage you to sing the hymns and voice the prayers and responses because children learn behavior by mimicking you.
A quiet room is available for parents and infants at the back of the sanctuary. An excellent nursery is also available across from the office suite with a pager system in use for children under three. It is located in the main lobby across from the offices. If you have to leave the sanctuary for any reason, feel free to do so. There are rocking chairs in the atrium where you can still see and hear the service. Please come back in though when you are ready. As Jesus said, "Let the children come to me."
If you have any questions or needs, please to talk to a pastor or usher.
Educational Opportunities for Children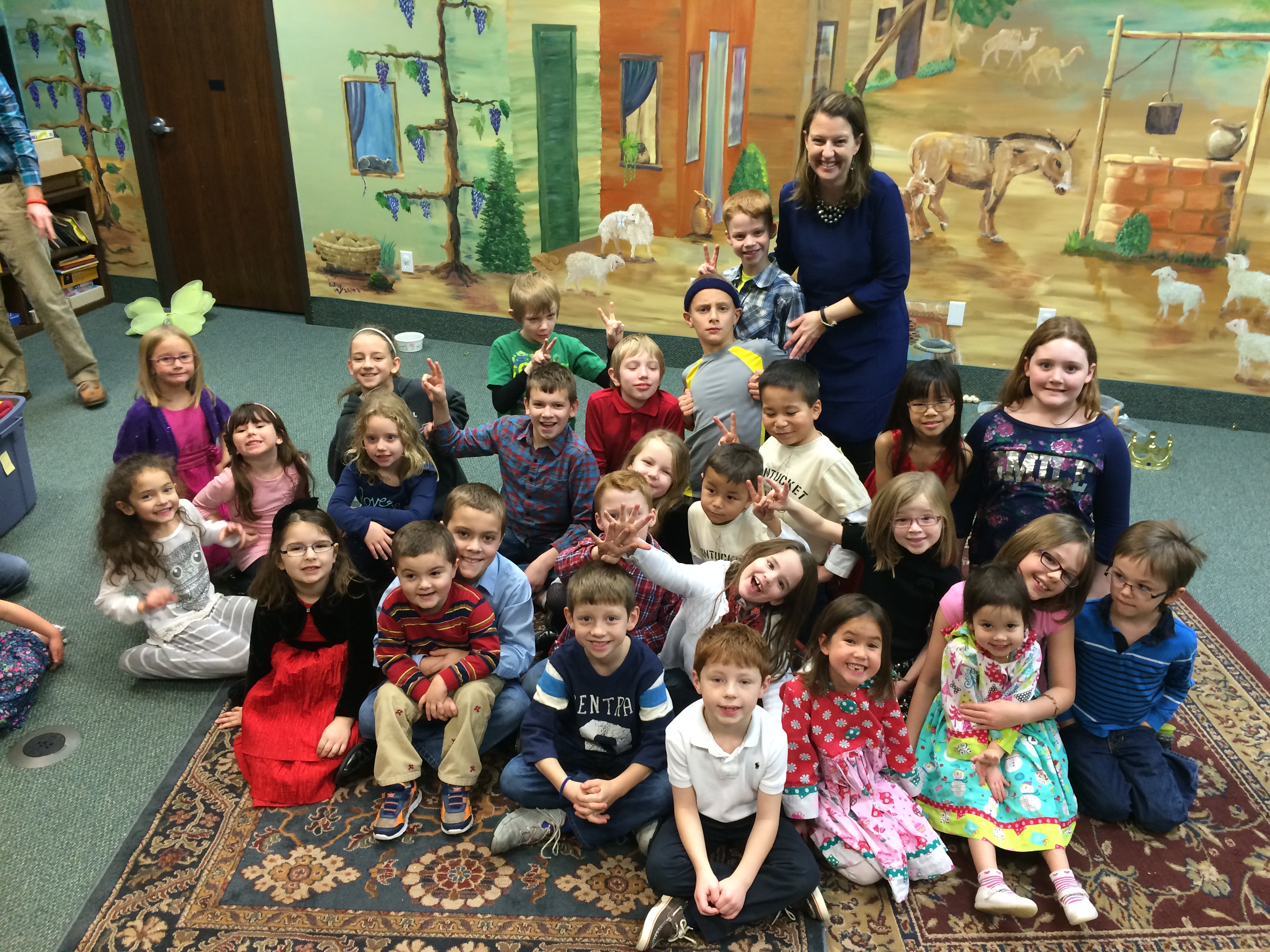 Sunday School
We offer Sunday school during 10:00 worship after the Time for Young Disciples. Through an engaging curriculum that combines both large group and small group formats, children will learn the Bible stories through teaching, music, art, drama, media, and more. After the worship service, parents can pick up their children from the classrooms upstairs. If you have any questions feel free to find an usher and they will direct you to the right place.
There are many more opportunities throughout the year for the children of UPC to learn and grow.
- Yearly Christmas Pageant – The children spend a few Sundays rehearsing to share the story of Jesus' birth with the entire congregation. What a wonderful way for children to share their gifts and be a part of the worshipping community.
- Service Projects – Throughout the year, children learn about those in our community and world that struggle. We are always searching for ways we can help. Even the little can do great things to change the world.
- Vacation Bible School - Each summer UPC hosts a week of Vacation Bible School during the evenings in July. We invite children from all over Peoria and surrounding towns to participate in a fun-filled and educational week.
We transform the church and the Fellowship Hall to whatever the theme of VBS is for that year to immerse the children in the VBS experience. Children participate in small group discussions, science experiments, crafts, recreation, singing, and snack which are around a theme and Bible story for that night.