We grow and nurture followers of Christ in a welcoming community by partnering with our neighbors to pursue relief and restoration through faithful action, and by loving others as Jesus first loved us.
This goal is accomplished through strategic partnerships that focus on applying the time, talent, and treasure of the UPC congregation to pursue relief and restoration with our neighbors locally and throughout the world.
World Missions
Projecto Amar
We partner with Vision Trust to support a Learning Center in Goiania, Brazil. We raise funds to support their current needs and have provided learning kits, sleeping mats, books, televisions, and salaries for teachers. Several families in the congregation also serve as sponsors for children at the school providing, not only financial assistance, but love and support.
Refugee Ministry
In 2016 the congregation responded to a call to be a lifeline for Syrian refugee families by collecting $12,500 for the UN Refugee Agency (UNHCR). The following year we had the opportunity to form a Good Neighbor Team in partnership with a neighboring church where we worked with World Relief to sponsor a refugee family resettling in Peoria. We had volunteers from UPC to assist with transportation, ESL tutoring, job placement and more. We also collected items to furnish an apartment and formed a lifelong friendship with the family. We remain faithful in our prayers and attention for refugees and immigrants and their needs both locally and around the world.
Peoria Partners
United Presbyterian Church is dedicated to bringing hope, peace, joy, and love to Peoria, but we cannot do it alone. We partner with local charitable and mission organizations who are uniquely suited to meet specific needs in Peoria. We sponsor drives, work days, and contribute funds to these organizations. On select fourth Sundays of the month special guests from our Peoria Partners share the good news of the lives touched by their mission. Our historic Peoria Partners include:
Snack Pack Program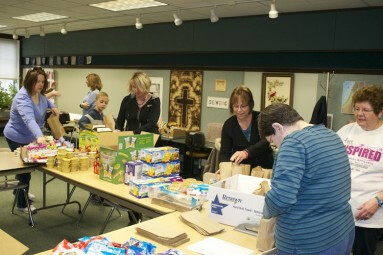 United Presbyterian Church has teamed up with Northmoor Elementary to provide healthy food to children who go hungry every weekend. Teachers identify the students in need and receive permission from the parents to send a snack pack bag home with the children every Friday.Currently we provide bags for 46 students a week, but the number continues to increase. Some of the items we put into the bags include 100% fruit juice, vegetable straws, fruit cups and applesauce, cheese and crackers, and granola bars. Donation of food items are accepted on the food shelves in the Fellowship Hall. We assemble the bags every fourth Sunday of the month after worship so it becomes an intergenerational communal experience of service.
Family Christmas Shop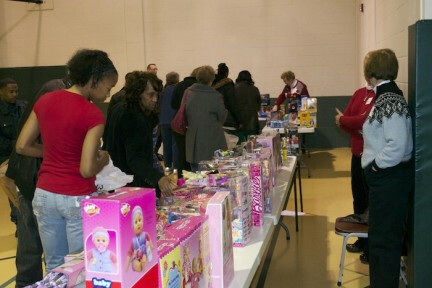 The Family Christmas Shop is a ministry of United Presbyterian Church to assist families and bring hope in the name of Jesus Christ at Christmas.
The Family Christmas Shop is an opportunity for families to pick out presents for both children and parents. We welcome about 50 families into our church and provide family portraits, refreshments, activities for children, gifts, and wrapping paper.
The Family Christmas Shop is the second Saturday of December from 4:00-6:00 pm. A sign-up sheet to volunteer is located at the Church Welcome Center starting in November. We begin collecting gifts and wrapping paper at the beginning of October. If you would like more information on how you can help please contact the church office.
WMBD News Story on the Family Christmas Shop
Share the Warmth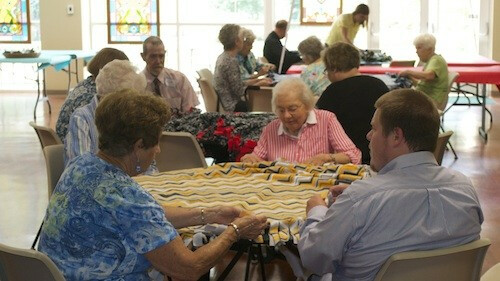 Share the Warmth provides fleece tie blankets to those in need of warmth in their lives such as victims of disaster, illness, and tragedy. We give blankets to the Peoria chapter of the Red Cross, to the Sugar Plum Project which gives beds and bedding to children in need, and to members and friends in hospital, hospice, or treatment.
We accept donations of fleece, JoAnn Fabric coupons and/or monetary donations to help fund this project. Volunteers cut and tie the blankets together and then sew on a Sharing the Warmth label. We don't just purchase blankets to give out, but we make them with love, prayer, and compassion. Share the Warmth meets on the second Saturday at 9:30 am to work on blankets .
SPECIAL OFFERINGS
Every fourth Sunday we have a special collection of non perishable food during worship with our children taking an active role. This food is later distributed to local food pantry partners.
During Lent we spend time together hearing about and praying for the ministries of compassion and justice done through our support of the Presbyterian Church (USA) One Great Hour of Sharing. The three programs supported by One Great Hour of Sharing — Presbyterian Disaster Assistance, the Presbyterian Hunger Program, and Self-Development of People — all work in different ways to serve individuals and communities in need. From initial disaster response to ongoing community development, their work fits together to provide people with safety, sustenance, and hope.