Youth are an important part of the UPC community. We believe in quality Christian education for youth that supports youth through their questions, struggles, and doubts. We believe in a ministry of presence with youth and modelling what a life of faith is all about. There are many opportunities for youth to participate in educational programs at the church like a Sunday Worship Preparation Class, the Quest High & Middle School youth groups, and confirmation.
Youth Educational Opportunities
Confirmation
The purpose of confirmation is to prepare a youth to make a personal decision to follow Christ and to become an active member of the church. Here are some Frequently Asked Questions about our Confirmation program.
What Is Confirmation?
Confirmation is a learning opportunity and important step in one's faith journey where a small group of students are exposed to some of the key teachings of the Christian Faith, the history of the universal church and our local church, the life and work of Jesus, and what it means to be a disciple of Jesus.
Who Can Begin the Confirmation Journey?
Any youth in 8th-12th grade can request to be confirmed in the church. It is up to the youth to decide when he or she is ready. The Confirmation process can take 1-2 years depending on the pace of the student. There are no special confirmation classes, just special assignments outside of our normal youth group meetings.
What does Confirmation entail?
If a youth would like to be confirmed in the church he/she needs to attend our youth group Quest on the second and fourth Sundays of the month. The majority of the learning will come from youth group (which of course will also be fun). Confirmation students will also have experiential assignments such as: attending a session meeting, committee meetings, going on a deacon visit, participating in church mission projects, and attending special church functions. Confirmands will also complete a number of worship worksheets that are based on worship services they attend, and they will meet with Pastor Stephen a few times to talk about their faith and the things they have experienced and learned.
When Will a Youth be Confirmed?
Once a youth has completed at least one year of youth group and completed all the other assignments, they are able to be confirmed in the church. We have a Confirmation Sunday in May each year.
Youth Fellowship
Youth Group
Our Youth Group usually meets on the 2nd and 4th Sunday evenings of the month, unless otherwise noted in church publications.
These evenings we get some energy out in the gym with games, playing on the pool/ping pong table, foosball or board games. Then we have a time for devotion, sharing the high's and low's of our lives, and more. We never follow a pattern, we just go where the discussions and needs of the group take us. Quest is a safe place for our youth to be themselves, share their questions, fears and more.
Some Sundays, we will combine groups for big events like our annual Big Barn Bash, Steak –n- Shake dinner and shopping for Family Christmas Shop, bowling, rock climbing, movie nights, game nights and more.
Service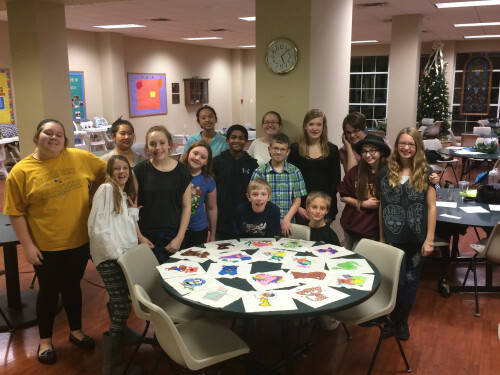 Our youth take serving others very seriously. We work hard all year to reach out to those in need through our words and deeds. From volunteering within our own church by helping with our younger members to serving the community , we search for opportunities year-round to be God's hands and feet in the world.
Mission Trips
One important way we show God through us is our Mission Trips. We fundraise all year long to take a week in the summer to serve others. Of course we leaves some time for fun, fellowship and discovering new places.
Last summer, we packed and headed off to Kentucky for a week to serve and grow! This year we are going to Give Kids the World in Florida where we will be serving families with a child who has a chronic or terminal illness as they visit the happiest place in the world.
Retreats
Every other year (a non-mission trip year), the youth take a weekend to completely focus on their relationship with God and their relationships with others. We spend an entire weekend focusing on a subject that is prevalent in their lives and dig deeper. We have tackled bullying, family issues, faith and more as we are closed off from the outside world for a few short days. It is wonderful opportunity to create bonds with each other and with God.