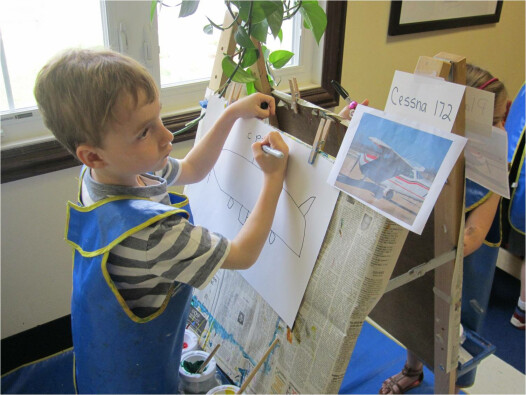 At UPC Discovery Early Learning Center we believe strongly that there are three teachers in every early childhood classroom: the adults or teachers, the children, and the classroom environment. The learning environment, the physical space and materials that make up a classroom, plays a crucial role in the development of each student in that classroom. Recent research in the field of early childhood development points to the importance of purposeful and meaningful classroom design. Every corner has a purpose and is adapted constantly to meet the needs of the children.
Our classroom environment is guided by the principles of best practices in early childhood education and reflects recent research in the field, especially from the educators of the schools of Reggio Emilia, Italy. In Reggio, the child is thought of as rich, strong, and capable of negotiating the environment.
When you come into the classroom you will notice that the wall and floor colors have been chosen carefully to reflect light and to highlight the work of the children that will soon adorn the walls. We document the children's learning extensively and require a plain canvas that will focus the viewer's eyes on the children's work. Furniture and materials are very natural, and we incorporate lots of wood, cloth, and natural materials into the classroom. We want the classroom to feel like and to emulate the home environment—one of the child's first teachers!
The classroom is organized into learning centers that encourage and strengthen children's development in several different learning domains: language and literacy, math, science, social studies, fine arts, emotional and social development, and spirituality. These learning centers reflect the current interests and investigations driven by the children's curiosity. The environment responds to the child in that way. It is the teacher's job to constantly assess where the children are in their mastery of expected skills and to adapt the learning centers to encourage that mastery. The environment becomes a teacher!
Learning Centers

Meeting/Gathering Area
When children gather in large groups they learn to listen and focus on specific topics. During class meetings children begin to form bonds with their teacher and with other children and a classroom community is established. Songs are sung, books are read, and dances are shared. During large group meetings, the following Illinois learning standards are met:
32.A.E.Ca: Begins to understand and follow rules
32.A.E.Cc: Begins to demonstrate empathy for others
32.B.E.Ce: Develops relationships with children and adults

Math Manipulative Area
Playing with Legos, puzzles, sorting trays, Lincoln Logs, Bristle Blocks, lacing cards and other manipulatives helps children strengthen beginning math and spatial skills. When children play in the math manipulative area the following Illinois learning standards are met:
8.A.E.Ca: Sort and classify objects by a variety of properties
8.B.E.Cb: Recognize, duplicate, and extend simple patterns
8.B.E.Cc: Begins to order objects in series or rows

Sensory Area
There are a hundred languages that children use to tell us what they know and what they want to know more about. The preschool child is a very concrete learner and makes sense of his world by investigating it using the senses. When children play in the sensory area they are meeting the following Illinois learning standards:
19.A.E.Ca: Engage in active play using fine motor skills
19.A.E.Cb: Coordinate movements to perform complex tasks

Book Corner/Quiet Area
When children spend time in the book area reading books they begin to understand the conventions of print. They begin to use books as a resource to find answers to their questions and they begin a life-long habit of reading. The following Illinois learning standards are met in the book corner:
1.C.E.Ca: Retell information from a story
1.C.E.Cb: Respond to simple questions from reading material
1.C.E.Cc: Demonstrate literal meaning of stories by making comments
2.A.E.C: Understand that different text forms, like story books, magazines, catalogs, notes, and lists are used for different purposes

Art Area
When children play in the art area they are engaged in creative play. As they paint, glue, cut, collage, and sculpt, they are strengthening their fine motor muscles that prepare them later to hold a pencil. When children play in the Art Area they are meeting the following Illinois learning standards:
25.B.E.Ca: Describe or respond to the creative work of others or their own creative work
26.B.E.Cb: Use creative arts as an avenue for self-expression

Language and Literacy
When children "play" writing they learn the connections between written and spoken language. They begin to see themselves as writers and that writing is used for communication. When children play at the Writing Center the following Illinois learning standards are met:
1.A.E.Ca: Understand that pictures and symbols have meaning and that print carries a message
1.A.E.Cc: Identify labels and signs in the environment
1.A.E.Cd: Identify some letters, including those in own name
3.A.E.C: Use scribbles, approximations of letters and knows letters to represent written language

Science/Discovery Area
The young child is a very curious being! As adults in their learning environment we need to support and encourage their curiosity by providing long stretches of time for them to investigate things they are wondering about. When children play in the Discovery Area the following Illinois learning standards are met:
11.A.E.Ca: Uses senses to explore and observe natural phenomena
11.A.E.Cb: Collect, describe, and record information
11.B.E.Ca: Uses tools like a magnifying glass, balance scales, prisms, or thermometers for investigation
12.A.E.Ca: Investigate and categorize living things in the environment

Dramatic Play
The dramatic play area is designed to emulate the home environment. Real dishes and silverware encourage children to construct pretend play modeled after their own home experiences. Dress clothes invite children into the world of pretend as firefighters, dentists, farmers, and Biblical characters. They can cook dinner, take care of babies, tend to the farm, and travel the road to Bethlehem. When children play in the dramatic play area they are learning important social and emotional skills like communicating effectively, taking turns, sharing materials, and working within a group structure. The following Illinois learning standards are met through dramatic play:
31.A.ECe: Uses appropriate communication skills when expressing needs, wants, and feelings
32.B.ECa: Engages is cooperative play
32.B.ECb: Begins to share materials and experiences and take turns
32.B.ECc: Respects the rights of self and others

Block Area
The block area is one of the most used learning centers in a preschool classroom. Here children learn beginning math and science skills as they create and construct their own ideas. Children playing in the Block Area meet the following Illinois learning standards:
7.A.E.Ca: Demonstrate a beginning understanding of non-standard measurement and measurement words.
7.B.E.Cb: Shows understanding of and uses comparative words
7.C.E.Ca: Incorporate estimating and measuring activities into play
9.A.E.Ca: Recognize geometric shapes and structures in the environment