Discovering Nature classrooms in Early Childhood
Discovering Nature Classrooms in Early Childhood showcases the UPC Discovery Early Learning Center. In this video, UPC Discovery staff share their knowledge on the benefits of nature classrooms, as well as considerations for planning and implementing a nature classroom in early childhood programs. All of the footage you see in this film feature our staff, children, parents, and grounds of UPC Discovery and United Presbyterian Church. Enjoy the film!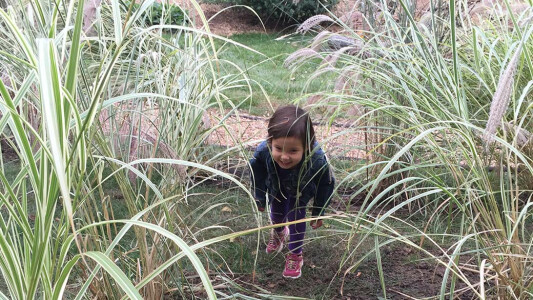 Connecting children to the natural world is an important component of the UPC Discovery programs. Research in the field of education and medicine reveals that children who don't have opportunities to spend uninterrupted time outside exploring nature have a greater propensity towards Attention Deficit Disorder and Childhood Obesity.

Our children are growing up in today's world without any understanding of nature and how it impacts their daily life. Our children are growing up not knowing how to plant a garden, dig for worms, find animal tracks in the snow, or gaze at a cloudless sky in wonder. To address this challenge, the staff of UPC Discovery and the congregation of United Presbyterian Church began construction on a Nature Classroom in June 2011.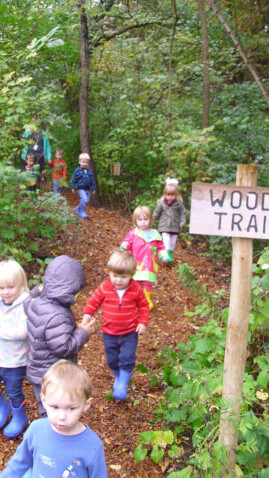 Nature classrooms provide children opportunities to explore the natural world. These Nature Classrooms are often structured into learning centers and many components of the classroom environments are repeated outside. The centers in a Nature Classroom are: Nature Art Center, Nature Music Center, the Gathering Place, Messy Materials, Garden Center, Construction Area, the Climbing Area or Tree House, Water Feature, and Entry Feature.
Nature Classroom Centers
ENTRY FEATURE
The entry feature serves to identify the entrance to the Nature Classroom and beckons children to enter through it to the many natural areas beyond. At UPC Discovery, the Nature Classroom is an extension of the traditional playground and the pergola entry feature clearly defines where children enter the Nature Classroom. The wooden sign identifies the name of the Nature Classroom.
GATHERING PLACE/TREE HOUSE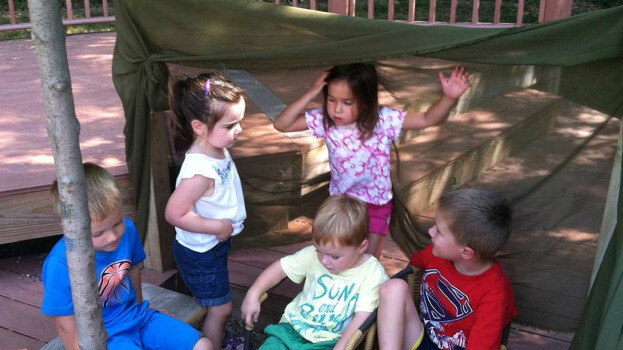 This area invites larger groups of children to gather for a story, class meeting, or creative movement. Its dual purpose as the Tree House also invites children to create their own environments using large pieces of cloth to create "forts". When children work together to create these environments they learn to listen to each other and respect different ideas. They begin to strengthen essential collaborative skills for life-long learning.
MESSY MATERIALS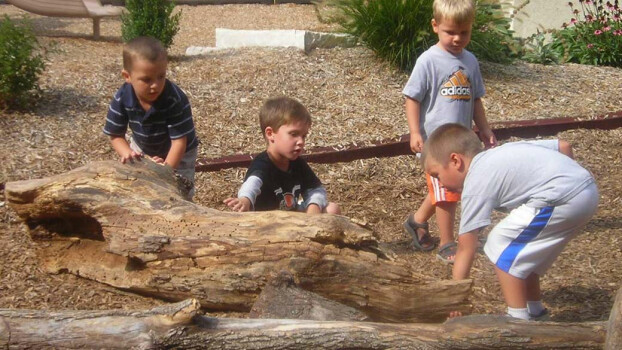 Here children dig in the dirt, construct with sticks and logs, and get messy! Lots of children work together to build structures or hunt for "roly poly bugs". Natural materials like logs, sticks, tree cookies, and mulch provide children opportunities for construction and play.
THE GARDENING AREA
The garden provides children opportunities for learning about the growing cycle of plants. As they dig, plant, care for, and eventually harvest their garden, they learn how weather conditions impact plant life and the importance of nature on the foods we eat. Gardening encourages healthy food choices – children want to eat what they plant!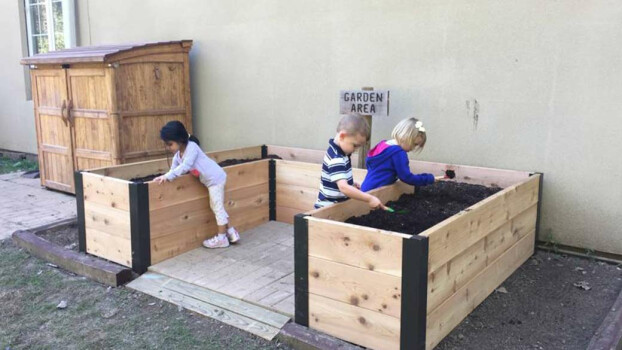 NATURE ART AREA
The Nature Art area encourages children to examine materials like pinecones, stones, sticks, and leaves and to use them in creating natural designs. The painting easels provide opportunities for them to study the surrounding woods and meadows as they represent their observations through painting and drawing.
THE WATER FEATURE
The waterfall is a new addition to the UPC Discovery Nature Classroom! Installed in the spring of 2014, the waterfall invites children of all ages to gather and enjoy the peaceful sounds of gently flowing water. Already we have observed nature taking over our waterfall as children have discovered frogs and waterbugs making their new homes in the protected boulders of the waterfall. A water feature not only provides a peaceful, contemplative place for young children, but also encourages children to explore the natural scientific properties of water!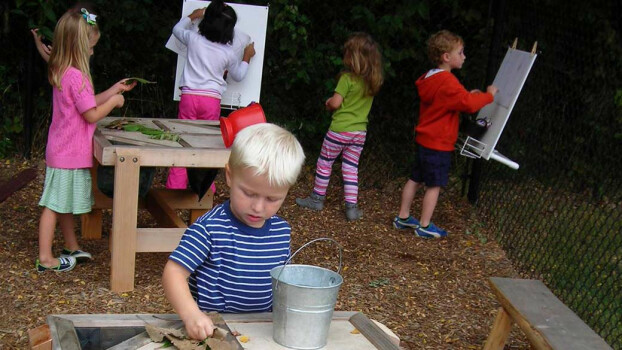 THE NATURE MUSIC AREA
Coming Soon! This area of the Nature Classroom beckons children to recreate the sounds they hear in nature. By using the marimba, tongue and snap drums, the children respond to the natural sounds they hear and create their own musical interpretations.