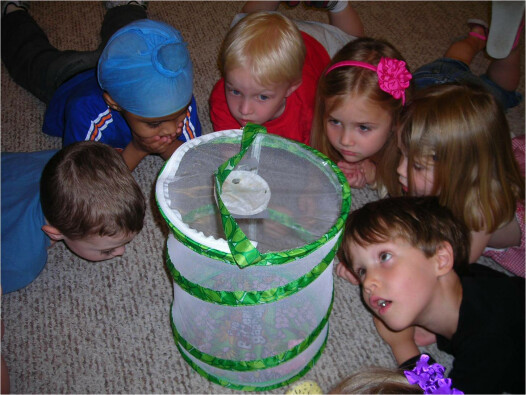 UPC Discovery engages children's minds through active and investigative play, children's hearts through faith-based activities and Godly Play, children's curiosity through nature activities and inviting nature into the learning environment, and children's imaginations through music, drama, and the visual arts. Our Reggio-inspired environment encourages child-centered curriculum and invites young children to discover the world in a natural and authentic way.
Through in-depth project-based learning, children identify what they want to learn more about: flowers, ladybugs, emotions, medicine, reptiles, snowflakes, or anything else that captures their interests and imaginations. Teachers support children as they begin to form questions and guide them to discover the answers through their investigations. Teachers also use the classroom and outdoor environments to provoke new experiences and inspire learning. Children will often spend time in the outside environments to discover more about topics that interest them, and sometimes the outside world is brought into the classroom. Experts in the community are resources as the children investigate topics, and field site visits serve to deepen children's understanding during project work.
Highly trained teachers document children's learning, and children's work is displayed in thoughtful and meaningful ways that communicate to families and visitors the learning taking place in the classroom.
UPC Discovery's Program emphasizes four ways of learning: Play-Based Learning, Nature-Based Learning, Arts-Based Learning, and Faith-Based Learning.
Play-Based Learning
Play is essential to young children—it's how they learn! Children who actively engage in play learn the physical, social, and cognitive skills to succeed in school. As children explore, create, and experiment with new ideas, they begin to make sense of their world. Academic skills like letter recognition, writing, and math are taught in authentic ways and are integrated throughout the curriculum, never taught in isolation.
Our program is enhanced by a state-of-the-art early childhood environment both indoors and outdoors, which invites children to think, wonder, question, problem solve, and learn.
Arts-Based Learning
Children express their thoughts and feelings about what they are learning through a variety of arts such as drawing and sculpting, music, language, dance, and drama. Children are naturally creative and use many different "languages" to communicate what they are learning and what they want to know more about. They learn new skills and strengthen their self-concept when they are given the opportunity to create with words, paints, clay, instruments, costumes, puppets, and more.
We celebrate our children's creativity by displaying their work in the classroom and around the church. We believe the artistic process to be even more valuable than the final product. Therefore, some of the children's own thoughts about their creations accompany the display, picture, or video as part of our documentation process.
Children participate in the arts not only through their own self-directed play but also through special instructors. Children attend weekly music classes, where they enjoy singing, learning about new instruments, and playing instruments while being introduced to different genres and styles of music. Throughout the year, special guest instructors lead art projects and share their arts expertise.
Nature-Based Learning
Children today spend less time outside exploring and discovering in nature and more time indoors in front of screens. Allowing children to play outside, manipulate natural materials, and discover the living world builds self-esteem and encourages critical thinking and creative inquiry. By taking children out into the natural world and bringing nature back into the classroom, children gain a better appreciation for the world around them. A deeper understanding of the natural environment helps children to appreciate that they are part of a larger world and to recognize and value their place in it.
Children at UPC Discovery enjoy a large outdoor nature explore classroom with plenty of green space and explore the church grounds with their teachers. The grounds of United Presbyterian Church are an official National Wildlife Habitat that is home to many distinctive species of flowers and trees. Children can even see families of geese and ducks roost in the spring and may see the occasional deer or wild turkey.
Faith-Based Learning
At UPC Discovery, children are introduced to faith through developmentally appropriate methods. We use Godly Play, a research-based curriculum that introduces children to the concepts of faith, hope, and love. As they watch the Bible story unfold before them with the wooden figures, the simplest concepts of Christian faith become real to them. Children are immersed in the Christian faith in the daily life of the classroom, as they share their joys and concerns and engage in simple prayers and songs.
Children learn faith principles in Godly Play and further explore these through drama, music, and the visual arts. Children may hear about Mary and Joseph's journey to Bethlehem and then play "Road to Bethlehem" with costumes and props, draw a picture of Mary and Joseph traveling to Bethlehem, or sing a song and play instruments along with the music.