UPC is blessed with a beautiful building and grounds. Our grounds are a registered National Wildlife Habitat and has a walking trail around the perimeter. Our grounds also has a nature classroom, a playground, meditation benches, a gazebo, and a diverse array of plants, flowers, and trees.
Our building is more than a place to worship; it is part of our mission. Our building is used to host our UPC Discovery Preschool and a variety of church worship, education, mission, and fellowship events. Our building is used daily by a variety of civic groups, community resource groups, and others who need a place to meet or hold a function. If you are interested in using our building for meetings, concerts, parties, or other special events, please download our Building Use Policy.
Weddings
Congratulations! Your wedding is a happy and sacred occasion and we rejoice with you as you plan for your day of faithful promises.
Christian marriage is a wonderful expression of grace and hope between two people. In the Presbyterian tradition, we believe it is a covenant blessed by God through which two people are called to live out lives together in witness to the love that God bears for the world.

The following guidelines governing Christian weddings at United Presbyterian Church are intended to assist you in your planning and to ensure that the ceremony celebrates the gift of marriage by glorifying God. We want your wedding to be a joyous celebration and will do our part to make that a reality. Thank you for considering United Presbyterian Church as a location for your wedding. To schedule a tour and talk with a pastor about celebrating your wedding at UPC, please contact the church office at (309) 693-2002.
Funerals
United Presbyterian Church is devoted to walking through every dark valley with our members and friends and providing the comfort available when we have the opportunity to surround you with prayers, presence and support during your time of loss. We want to help you be able to come here to conduct a funeral or memorial service. We often provide space for visitations, services and a time of fellowship. Please call our office at 309-693-2002 for any questions about funeral planning.
Memorial Garden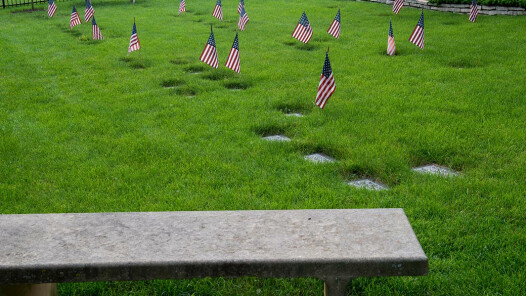 For centuries, Christians have honored their loved ones with dignified final resting places in churchyards on their grounds. In this tradition, United Presbyterian Church's Memorial Garden provides a place of repose and remembrance in a lovely sacred garden where one can peacefully meditate upon the lives of those who have died.
Located just outside the building on the north side of the grounds, the Memorial Garden is an integral part of UPC's ministry at the end of life. It provides a beautiful, meaningful place where members and their families can proceed directly from a memorial service to inter a loved one near their church home. In celebration of God's everlasting promise, the Memorial Garden provides spiritual comfort and a permanent place to contemplate life eternal. The Garden is an integral part of our United Presbyterian Church community. The Garden has become of place of beauty, areas for quiet reflection, and a sacred place where loved ones are memorialized.

A special peace and comfort is experienced by those who have planned ahead, and taken care of the special needs regarding end of life issues. To learn more about planning ahead and reserving a site in the Memorial Garden, please contact the church office or download a copy of our Memorial Garden Contract.